Recommended Books
The following are books that I have read in the past and highly recommend.
The Call Duck Breed Book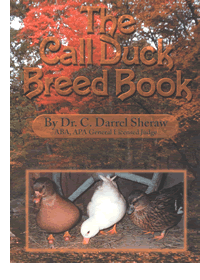 Dr. Sheraw's book covers everything you need to know about Calls. It describes all the colors and the breeders of the newer colors. Dr Sheraw as been responsible for many of these. Several chapters are written by other experts. Lou Horton covers chapters on breeding and showing. The information covered on nutrition and feeding has helped me revamp my feeding program with the products available thru my local dealer. An eight page color photo section is included. The last part of the book is devoted to showing.
Call & Other Bantam Ducks
Written by Anne Terrell, Ian Kay and Chris Ashton. This book deals with Calls and other Bantam duck breeds. The Authors are from England but basically everything coverd applies to all breeders. The book has an excellent 28 page glossy section with colored pictures of the different varieties of Bantams. It covers housing, breeding, incubation, diseases. etc. This is a great reference for the Bantam breeds. Dr. Sheraw's book does have more detailed information on the Call ducks.
Storey's Guide to Raising Ducks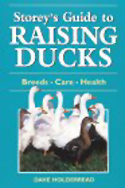 Written by Dave Holderread. This is a must have book for any beginning duck keeper and a great reference for experienced breeders. The book offers a review of all the breeds from bantams to the heavy weights. It has a very detailed chapter on color and genetics. The remainder of the book covers flock management. This includes incubation, health issues, showing, butchering, and much more.